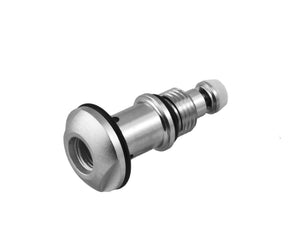 Tecline
Tecline 5th Port Kit for R2 1st Stages
Regular price
S$65.00
S$0.00
Own a Tecline R2 first stage regulator? Expand your range of possibilities for hose configurations with a fifth low pressure port for your regulator!
The 5th LP port introduces a convenient port on the bottom of your first stage, adjacent to the four existing ones on the turret. This gives it excellent hose routing capabilities, be it on a single tank, twinset or a sidemount setup.
On a single tank DIR setup, the long hose can be installed on the fifth port, with the first stage positioned at a diagonal angle to have a nice, easy and controllable hose routing.
On a twinset DIR setup, the inflator hose goes on the fifth port on the right post, and the backup goes on the fifth port on the left post. Both first stages are installed at an angle, forming a convenient "V" shaped space, that allows for an unobstructed head clearance, when diving in trim.
For a sidemount setup, the fifth port is usually used in tandem with a 20cm or 25cm inflator hose, which feeds into the inflator assembly for the BCD if used on the left, or a drysuit inflator if used on the right.
Note: The 5th Port Kit is compatible with up to Nitrox EAN40, out of the box.
If ordering a set of Tecline R2 ICE/R2 TEC regulators, add regulators, along with the 5th Port Kit to your cart and drop us a note with your order, if you wish to have us install the 5th Port Kit. It does not come installed by default.
---
More from this collection