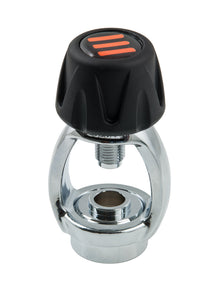 Tecline
Tecline DIN-to-Yoke Adapter
Regular price
S$90.00
S$0.00
While the European DIN (G5/8) tank valve is the preferred breathing gas connector standard, the older yoke (INT) system is still rather prevalent all over the world, especially in South East Asia.

A must-have for any diver with a DIN regulator, adding the Tecline DIN-to-Yoke Adapter to your dive kit is perhaps the best way to ensure your regulator's DIN first stage is truly diveable anywhere in the world.

This DIN-to-Yoke adapter is compatible with both 232 bar and 300 bar first stage DIN connectors.

Tech Pro Tip: Why do technical divers prefer using DIN over yoke connectors for their breathing gases? A DIN (which stands for Deutsche Industrie Norm) regulator first stage has a threaded post that screws into the inside of the tank valve, without any additional protrusions that would easily be susceptible to damage, causing them to lose the the gas. A DIN regulator also has the sealing O-ring on the first stage, instead of on the tank valve. Meticulous divers typically love this, as it puts the responsibility of maintaining the sealing surfaces in their hands, not the dive operators'.
---
More from this collection